Orient Planet Academy Announces Online Course Dates for Q4 2016
UAE, September 18th, 2016 –
Demand for e-learning in the Middle East continues to expand to address the challenges of skills gap in the region. According to the Middle East Skills Gap Survey released this year, the market in the region is in dire need for qualified personnel. This is especially the case with vacancies in senior-level positions, as 70 per cent of respondents confirmed the difficulty of finding candidates with the necessary skills and knowledge to fill the positions. E-learning is a vital tool that can be used to address this issue being accessible to people from all walks of life and presented at a lower cost.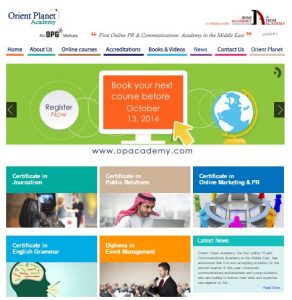 E-learning has also been proven to be effective, with studies showing that online courses increase retention rates up to 60 per cent in comparison to face-to-face training, which only registers an 8 to 10 per cent retention rate.
In recognition of its benefits and to address the needs of the market, Orient Planet Academy, the first online PR and Communications Academy in the Middle East, has announced its enrollment dates for the last quarter of 2016. The schedule was developed to meet the Arab World's growing demand for e-learning segment and the popularity of the Academy's courses. Interested learners can enroll for the October 13, November 17 and December 8, 2016 batch, depending on their convenience.
Nidal Abou Zaki, Managing Director, Orient Planet Group, said: "Orient Planet Academy has been a frontrunner in the Arab World's move to integrate e-learning in its development. We have especially designed these courses to help individuals expand their skill set and explore new professional opportunities. We have had strong positive feedback from people across the region. We remain committed towards equipping people across the Middle East with the necessary knowledge, skills and expertise according to international standards to help raise the benchmark for global excellence."
The Academy aims to address gaps in the market by working with the Irish Academy to offer internationally recognized certificate courses in Public Relations (PR), Marketing, Journalism, Event Management and English Grammar. It also offers localized Arabic courses in Online Marketing and PR as well as a Diploma in Event Management. Each course takes 10 to 12 weeks and students are required to complete one module every week and pass all requirements before a certificate is awarded.
Orient Planet Academy is a direct collaboration between Orient Planet, one of the Middle East's most rapidly growing PR marketing and communications consultancies, and the Irish Academy of Public Relations, an Ireland-based international online education provider of courses in communications disciplines. Orient Planet Academy's courses have been exclusively developed by the Irish Academy to suit the needs of individuals within the Arab World.
---